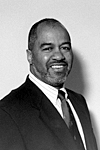 Founder and President of RDP Consulting Services in Pittsburgh, Pennsylvania, Ron Porter is an internationally recognized consultant, facilitator, trainer, and speaker whose expertise focuses on developing strategies to address complex issues of racial, ethnic, and cultural diversity in the workplace and the classroom. His firm designs structural programs that link diverse segments within communities, schools, business organizations, government, and non-profit organizations. The firm also works extensively with educators in public schools to increase understanding of diversity and develop strategies to improve educational outcomes for all students.
Ron is a frequent speaker at conferences locally, nationally, and internationally on issues related to ethnic, cultural, and racial diversity. He has spoken at conferences in England, Ghana, South Africa, and Ethiopia. As an adjunct instructor of multicultural management at Carnegie Mellon University's Heinz School of Public Policy and Management, Ron is serving in his tenth year of teaching the course Managing in a Multicultural Society.
Prior to founding his company in 1984, Ron spent 17 years as a corporate human resources professional. Key management positions included Vice President of Warner Cable Corporation of Pittsburgh, Manager of Headquarters' Personnel for Allegheny International Corporation, and Supervisor of Professional Employment and Manager of Occupational Training for Westinghouse Electric Corporation East Pittsburgh Divisions.
Ron serves on numerous boards including the Pressley Ridge Schools; Red Cross of Southwest Pennsylvania; Transitional Services, Inc.; African American Chamber of Commerce; Conflict Resolution Center International; and the Pittsburgh Branch NAACP. Ron also volunteers his time to bring together individuals from diverse sectors of Pittsburgh's community to generate, refine, and implement solutions to the problem of youth violence.
Ron holds a B.S. degree in Education from Millersville (PA) University and is a graduate of the Pittsburgh Public Schools. He is married and has two grown sons.