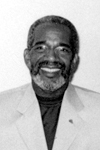 John Bailey was born in Pittsburgh, Pennsylvania on January 26, 1945. He attended Southwestern State University where he graduated in 1968 wiith a Bachelor of Science Degree in Management. In 1974, he received his Masters in Business Administration with an emphasis in Marketing from Michigan State University. He completed the University of Pittsburgh, Joseph M. Katz School of Business Management Program for Executives in May 1990.
Upon completion of Officer Candidate School in Newport Rhode Island, he was commissioned an Ensign in the United States Navy in July 1968. During his Navy career as a Supply Corps Officer, he was assigned to various commands around the world. As a Navy Captain, John attended the National War College and completed a one-year National Security Strategy Study. John received numerous military decorations and awards. After 28 years of honorable service, John retired as a Navy Captain in 1996, with demonstrated experience in marketing, contract management, acquisition, and program development. Following his retirement, he assumed the position of Chief Executive Officer for a major law firm. In September 1997, John became President/CEO of Volunteers of America Bay Area, Inc.
John is a lecturer and public speaker. In addition, he has provided consulting services on subjects related to Diversity in the Workplace. John serves on the Board of Directors of the American Cancer Society, East Bay Metropolitan Unit; City of Oakland's Workforce Investment Board, and on the Board of Directors of the Lord Tennyson Apartments, Inc., a low-income apartment complex. John is also a past President of the National Naval Officers Association (NNOA) a not-for-profit representing the career interests of Minority Sea Service and current Vice President of the local NNOA Chapter. Moreover, he is an active member of First African Methodist Episcopal Church.